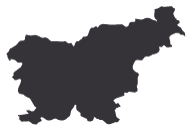 A BRIEF INTRODUCTION
Class sexta of Gymnasium in Šlapanice in school year 2014/2015 obediently inhabited their school desks. But that changed in june for couple of days and whole sexta class went on a week school trip to a smaller european country known as Slovenia. This website deals with a description of this aventurous and exciting journey.
THE VOTING BATTLE OF SEXTA
Before we agreed upon Slovenia being our second class trip, it took quite some time. Unlike our first trip, we weren't decided at all about where to go and the dead line was coming near. It took every last bit of self-denial for each and every one of us to accept the fact that our idea might not be the one that will end up winning the voting proces. The three options that were supported by the majority of us were: Scotland, Italy, Slovenia.
From the beginning, Scotland held quite comfortable lead in votes and it seemed like it was going to win it all, but then, the layouts of our potential trips from the travel agencies came. After carefully reading them through, the idea of going to Scotland was abandoned by most of its followers. Now the London trip was in the lead. Its historic background and potential for shopping overcame the natural beauty of Scotland. It was also expensive and traveling there would take forever. But nobody could foresee the epic finish that the Slovenia trip with one day in Venezia would make. Its absence of educational sightseeing kind of program turned out to be the judging factor. The London's downfall was the fact that we would have to live seperetaly with native families.
CHAPTERS
Welcome to section of chapters. We´ve splited the trip to few parts and it´s only on you to choose which one you want to read first. Maybe you want to find out more about our exceedingly interesting program. Or maybe you blaze with desire to get to know our photo album which is full of pictures from Slovenian nature. It´s on you to make the decision.